Once upon a time, residents spent their Saturday afternoons in a highly air  conditioned structure called a shopping mall.  "The mall" was a place where you had the opportunity to  try on clothing, test-drive gadgets, buy items in person and actually take them  home the same day. In the past, the shopping mall was the most efficient way to  locate a variety of products in the same space, until ecommerce was introduced  and the Internet revolutionized itself into a digital mall – quick, simple and  effective.
The influx of ecommerce worldwide has become increasingly evident over the  past few years. According to the United States Commerce Department (USCD), US  ecommerce sales alone totaled an estimate of $194.3 billion in 2011, up 16.1%  from $167.3 billion in 2010. In an effort to provide an interactive aspect to  consumers' shopping experiences, window displays have been transformed via  online campaigns and social media endeavors.
With the influx of ecommerce, online retailers now require a competitive edge  to combat the millions of other online spaces vying for web hits and purchases.  Here is my top 3 Online Shopping Sites list of  that stand out from the crowd.
1)   Hot Miami Styles– Dress to impress. This is what all the celebs are wearing! Body hugging bandage knit fabric that molds your body into an hourglass shape. Made with straps of fabric bound tightly like a bandage. These sexy dresses accentuate every last curve of your body.  Feel classy yet, sexy in this dress.  These clothes fit like a glove.  Sexy never looked so good!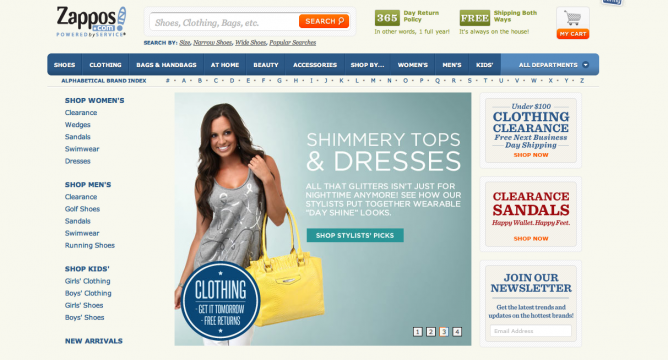 2)  Zappos.com- Zappos provides members with amazing deals on designer apparel and footwear. Regardless  of your budget,  Zappoos promises  not only the best prices, but the best service.  The website provides a  LIVE HELP service that acts as an instant messenger to their 24/7 on-call  support team. If you're having an issue with products, prices or have other  inquiries, Zappos has  humanized their online platform to ensure that you receive answers to your  questions immediately.
3)  Forever 21– For most high-end fashion designers, it takes 18-24 months to get from initial design to merchandise into the stores, while department stores need 4-6 months to get from the design room to the sales floor. The key to Forever 21's success is their ability to spot the hot styles and trends, reproduce them, and bring them to market in six weeks or less. Perhaps most important of all, they are able to offer well-made merchandise at prices that rival those of discount chains Target and Wal-Mart, with most items in the $5-$30 range.  Although originally catered to mostly young men and women, the fast-fashion model which transports current trends from the runway to the rack in record time has garnered mass appeal among both the young and young at heart.
What websites do you use to shop or do you shop online at all?  We want to hear from you.  Make you follow me a @rnbmagazine.